Getting Whatsapp for Nokia phones is not at all difficult and it will make your life easier, save you airtime and make chatting to friends and family stress-free fun when you realise that you do not have to pay a hefty bill at the end of the month.
Whatsapp is a messenger service that allows you to talk to other users who have Whatsup for free or for a really low fee.
We all remember MXit (some of us may still use it) where cell phone users could download this chat service and, when logged on, talk to other users who are logged on for free or for a fraction of a cent per message.
This made lives much easier for those who had to pay for their own airtime and cell phone bills! However, one catch that made MXit less than ideal was the fact that you had to actually be logged on to send and receive messages.
If you did not have airtime, you usually didn't have a way to tell people to log on if you wanted to speak to them.
Whatsapp is different. This messenger service is an app that you actually download to your phone and that you do not have to be logged into to use.
If someone sends you a message on Whatsapp, your icon will flash and you will be notified that you have a message, similarly to receiving an SMS.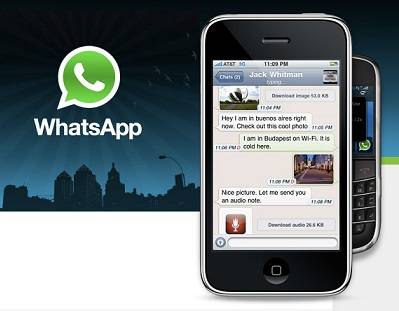 Why use Whatsapp?
It is a great way to chat almost for free to your contacts. Airtime has become incredibly expensive and making phone calls or sending SMSs all day is seriously costly.
(Click Here for some useful info on getting free airtime)
Whatsapp will allow you to save a huge amount of money on airtime and will mean that you can chat instantly to anyone else who has it.
Because the application can be downloaded to almost any one of the newer model cell phones, you can encourage all of your friends and family to get it so that you won't have to waste time and money SMSing and calling them anymore.
Why choose Whatsapp over other messenger services?
Other messenger services, like Blackberry Messenger, can only be used on one specific brand of cell phone.
While Blackberry Messenger works really well and is great if everyone you know has a Blackberry, with Whatsapp you can reach everyone. Even your friends with Blackberries can download Whatsapp as a second messenger service.
How do you get Whatsapp for a Nokia phone?
Almost any Nokia phone that can access the internet, and certainly any Nokia smartphone, will be able to download Whatsapp.
All you have to do is go here to download.
Once it has downloaded, any contact that is stored on your phone and that also has Whatsapp will immediately become accessible to you through the messenger service.
Other ways to save money on airtime
Getting Whatsapp is a great way to enable you to chat freely and as much as you want without wasting air time. However, there are several other ways to save money on air time.
Try one of the following tips to conserve your air time and save yourself money in general.
Make certain hours a 'no cell phone' period
Say everything you have to say in one SMS
Check your SMSs before you send them to ensure that you haven't left anything out or gotten anything wrong
Try to make phone calls and SMS during off peak hours
Make use of free airtime that you are given by your provider when you  upload at a certain time or on a certain day
Budget for your air time and stick to your limit
Following the above tips and tricks and using the Whatsapp messenger service will definitely help you to save on air time.