Why purchase airtime vouchers on the internet? You need to make an important call. But discover that you're out of airtime, with a message to: "Please recharge your account". But no retailers nearby. Or, even worse, you are in the middle of an important call when it suddenly cuts out as you have run out of airtime.
All pre-paid cellphone subscribers have been there at some point. A couple of years ago you would have been stranded. But nowadays there are a number of places to purchase airtime vouchers on the internet. For all major networks – Vodacom, Cell C, MTN, and Virgin Mobile.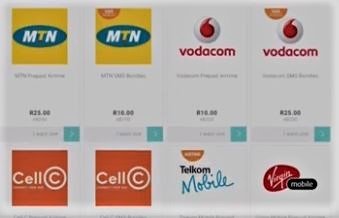 What are the benefits to purchase airtime vouchers online?
Most of all, buying airtime online is convenient. As you can do it anywhere you have internet access.
Often you don't even need a recharge pin-code. If you use your Absa online account, for example, you simply enter your phone number and the airtime is directly loaded into your cellular account.
Many online top-up options also allow you to buy airtime for a family member or friend and have it loaded directly into their account (all you need is their cellphone number).
Buying airtime online saves you having to carry cash or cards to use at brick and mortar stores.
Unlike many physical retails stores where you can purchase airtime vouchers, online airtime purchases are available at any time of night or day, any day of the week.
Most online airtime retailers require you to pay for your purchase with a debit card or credit card.
Alternatively, you can buy airtime through your bank. By logging onto your internet banking. For this option you need to have a bank account at that particular bank and be registered for online banking.
How much airtime can I buy?
Just like buying a voucher at a store, the choice is yours. Different service providers offer different top-up vouchers and bundles. Allowing you to recharge your account whether it's payday or the end of the month.
Which sites can I visit to buy airtime vouchers on the internet?
One of the easiest ways to buy airtime on the internet is to use your internet banking account. That is directly linked to your chequing or savings account.
Absa: If you have an account with Absa, simply follow the screen prompts, confirm your details, and buy the airtime. The amount you choose will be sent straight to your cellphone account and be debited from your listed online banking account.
Standard Bank
FNB
You can also visit the website of your service provider:
Vodacom shop. On the Vodacom Shop site, you will need to register and create log-in details
Cell C: Cell C doesn't have its own virtual airtime portal, but you can log into your internet banking account and buy Cell C airtime
Virgin Mobile: The same applies for Virgin Mobile – simply use your online banking
MTN: http://www.mtn.co.za. With MTN's Eazi Recharge, you can buy Pay as You Go airtime as well as Internet Bundles and MTN SMS Bundles
To buy online you can use your Nedbank, Absa, or Standard Bank debit card, as well as most Mastercard or VISA credit cards. Once a card has been registered with MTN, you can buy airtime from your cellphone at any time using the card details on file.
You can also top-up a beneficiary's account. The service is available 24/7, so that you can recharge anywhere at any time.
Tip #1
Many internet-based airtime transactions are not refundable or retractable. So make sure that you enter the correct details when buying airtime online.
Tip #2
There are many other airtime retailers out there (as you will see with a simple Google search). To be on the safe side, however, rather buy airtime directly through your bank or from your service provider.
When it comes to giving out details and purchasing on the internet, "Better safe than sorry" is a good attitude.
So, next time when you hear that dreaded: "Beep! Beep! Beep!", don't despair. As long as you have internet access (or even cellphone signal) you can recharge your account and continue chatting in no time.