Not everyone knows how to load Vodacom airtime onto their particular device. Read on to find out not only how to load the airtime but some further useful information.
Vodacom Airtime Uses:
To make local calls
International calling
Send SMS text messages
Convert airtime to data
Browse the internet
Use messaging services like WhatsApp
Social media like Instagram & Facebook
To send emails
If you have a cell phone and a pre-paid Vodacom sim card. Or if you have a family top up cell phone contract with Vodacome, you will benefit from learning how to load your airtime.
It is very simple to load any airtime and does not require too much effort or hassle. There are also several different ways of doing it, depending on your needs and how you purchase your airtime.
Even if you are not technologically savvy you will be able to learn how to load Vodacom airtime onto your cell phone without much trouble.
About Vodacom
Vodacom is a well-known, reputable cell phone network service provider.
They offer coverage throughout South Africa and allow you to make calls to other countries as well. Vodacom offers airtime and data at a reasonable price and also sell cell phones, sim cards. As well as a range of different cell phone contracts, internet dongles, laptops, devices and services.
They are very competitive in the South African cell phone network and provider market. Therefore have a large following of satisfied and loyal customers.
If you are interested in buying a cell phone, Vodacom definitely comes highly recommended. In addition you should be very happy with the service you receive from them. As well as the prices you will have to pay for cell phones, contracts and air time.
Why go with a pre-paid sim or with family top up?
Many people prefer to get a cell phone contract rather than just buying a cell phone and a sim card. There are several reasons for this.
Firstly, most cell phone contracts offer a free phone to the client. This means that you will pay a monthly fee and be provided with a cell phone, sim card. And a certain amount of free minutes and sms's every month.
Generally, you will be able to use your phone as much as you want. After that you will receive a cell phone bill at the end of the month on top of your monthly contract costs.
This option does not appeal to everyone because it is so easy to spend too much airtime and go over your limit. This is very dangerous and means that you will often be responsible for a very high bill. When you cannot afford it.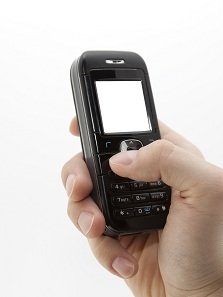 Other people go for simply purchasing a cell phone and a sim card. Thereafter buy airtime whenever they need it.
This is affordable on a month to month basis. But you must remember that you will have to pay the once off cost of the cell phone itself which can be incredibly high.
Many people end up buying phones with credit cards. Or buying second hand cell phones to avoid this high cost.
Vodacom Airtime Family Top Up
Another option, which may be a happy medium for many people, is a family top up contract.
With this sort of contract individuals still get a cell phone and sim card for a monthly cost.
But instead of racking up a huge cell phone bill and receiving it at the end of the month, they get a certain amount of airtime per month (paid for by their monthly fee). And this airtime will simply run out when it is used up.
Thereafter, if individuals want more airtime, they can simply top up with a pay as you go voucher.
How to load Vodacom airtime
Loading Vodacom airtime is very simple. If you go to a store and purchase an amount of airtime, you will receive a voucher with a number on it. This number is usually quite long.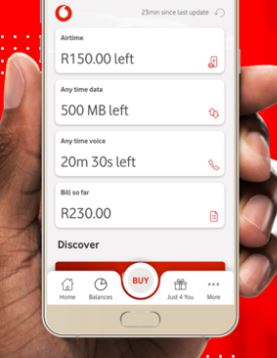 The simplest way to load Vodacom airtime is by dialing *100*01*NUMBER#.
UPDATE: The 100 number above was the old way of recharging Vodacom airtime on your device. The new number to recharge with Vodacom is 136 to recharge airtime and *136# for balance amounts.
Your airtime will be loaded to your phone immediately. You can also phone the number that will be on the airtime voucher. They will ask you to key in the voucher number during the call.
Another simple way of loading Vodacome airtime is directly through your bank account. If you have internet banking you can simply log in, select 'buy prepaid airtime' and key in your cell phone number. The airtime will be loaded directly to your cell phone.
If you have cell phone banking you will simply have to select 'buy prepaid airtime' out of the options you are given. Then choose the amount of airtime you want. Again, the airtime will be loaded onto your cell phone immediately.
To find out more about internet and cell phone banking, contact your financial service provider.
If you're struggling to understand all this, Click Here to go to the Vodacom website. There you will find further information on how to load Vodacom airtime on your device.